With three different training schedules, we've got you covered!
12 Weeks
Hello, newbies!  If this is your first long distance event or you want to lose a few pounds, this is for you! Starts Aug 6.
8 Weeks
Intermediate training. If you exercise somewhat regularly, and consistently walk/run 15+ miles a week, then your training starts Labor Day!
6 Weeks
Ideal for race junkies. The daily log is shorter than you're used to, but repeating it again and again aint as easy as you think! Starts Sept 17.
Race Virgins
Do not worry or be intimidated by any of this! Embrace the challenge and enjoy the training (we strongly encourage yall to follow the 12-week schedule so you can gain confidence and learn what clothes/foods work best for you).
Race Junkies
No matter how many marathons/halves you've done, you'll need to train for our event differently. Doing 10 miles back, to back, to back requires a whole different level of foot conditioning. This is a great way to spice up your same old, same old training routines!
Shortcuts
What happens if you're injured, sick, didn't train, or just want to hurry to the after-parties? No worries, we've got several short cuts available each day. Because let's face it, the miles aren't nearly as important as the the memories. Oh, and don't worry about your bling: it'll be waiting for you no matter how many miles you do.
Training Buddies
Meet your new BFFs and get sweaty with your fellow flockers that live nearby! Use this list to find peeps next to you and then tag them in our FB group and say, Howdy Neighbor!
FlockStar Challenge
Get a jump start on your training and help us get Fancy back from the Moon! Not only will you score a 5th medal (one that glows in the dark!) and a funny car magnet that's sure to leave people scratching their heads, but you'll also have a blast working with your fellow flockers as we collectively log 477,710 miles before October!
You'll also get to unlock our new FlockStar Tracker before everyone else, allowing you to log all your training miles and daily activity to your own private page. It is a great motivator and you can challenge yourself (and other feathered friends) to reach new mileage goals!
Our FlockStar Challenge is open to everyone (not just Pledge the Pink registrants) so invite all your friends and family to join the fun, get in shape, score some bling, and help us save more lives!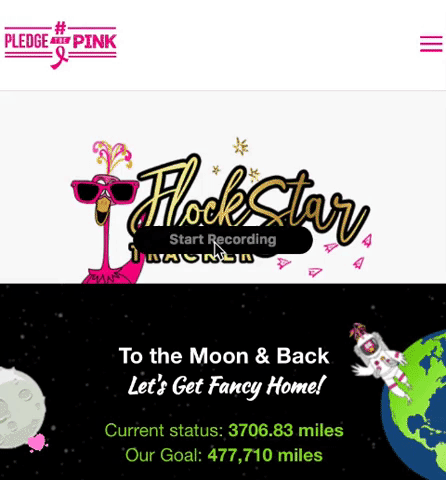 To make your Pledge the Pink weekend a walk in the park
Hydration is Critical
Especially in the summer. Make sure you're drinking a bottle of water every hour you are training. Sports drinks aren't necessary unless you are sweating for over 75-90 minutes. Even then, you can go with natural electrolytes by adding fresh lemon or lime to your water. Or have a piece of fruit to nibble on after 60-90 minutes of training.
Shoes, shoes, shoes
Don't buy your kicks because they are cute or on sale. Buy them because they are the right style and design for YOUR body (for your pronation tendancies, strike patters, and gate alignments). If you don't have a "running store" in your city to help you determine which sneaker is best for you, then check out our friends at Road Runner Sports.
Cotton is rotten
Once cotton gets wet, it stays wet — and that's when blisters and chaffing occur. Invest in socks that are made of synthetic materials such as polyester and acrylic to keep your feet dry. Once you start increasing your miles/duration, you'll also want to wear dry-wick shirts and shorts. And yeah, same goes for sports bras and panties, too!
Training means testing, too
Training also means finding out what foods work best for you, what clothes are most comfortable, and what steps you can take to avoid chub rub, blisters, etc. Experiment with foods, anti-chafing gels (Glide), moleskin, bandaids, and your race wardrobe. Now is the time to find out that your favorite sports bra is great for short walks, but rubs your arm raw for walks over two hours. Figure this stuff out now– it'll make your Pledge the Pink weekend all the more enjoyable!