Quick Links & Daily Pages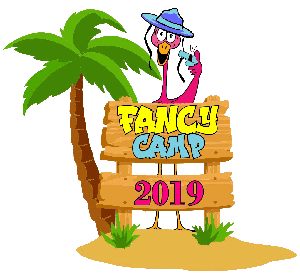 At Pledge the Pink, we are all about celebrating life.
And having a blast while doing it.
This weekend, we will focus on the love we share, our hope for the future, and our faith that if we continue to put one foot in front of the other we will reach the finish line- together!
Here is a quick summary of our weekend. I hope you are as excited as we are.
Weekend Overview
Click the toggles below to read more
Getting Here Contests
We hope everyone will get loco with our Car Decorating contest: tell the world where you are going as you gussy up your vehicles and drive to Fripp.
Flying here? How about a shot of you and/or your team proudly representing Pledge the Pink on the plane?
Post your car and plane photos on our Facebook chat club and we will announce Most Spirited winners during Saturday's after party and awards ceremony.
Free WiFi Access
Thanks to our friends at Hargray, we will have access to free WiFi at the Beach Club on Fripp!
Network name: PledgeThePink
Password: FlockStar
Bag Drops
We will have bag drops available daily! Stuff your bag with keys, a clean shirt, some flops, and your favorite koozy. Leave it with us at the start line each day and you can pick it up when you cross the finish line!
Sweepers and Shortcuts
We have designated short cuts for those of you not able to do all 10 miles:
Friday at the lighthouse we will have shuttles to take you back to Fripp and drop you close to the finish line. This abbreviated course will be about five miles.
On Saturday we will loop back to the Dataw clubhouse and you can exit there and run across the finish line. This short cut will be six miles.
Sunday's designated short cut is five miles and we will have volunteers on the course to direct you.
Our courses are officially open for four hours so take your time (and take lots of pictures)! 
Please note that we do not have the manpower to simply pick you up whenever and wherever you feel like quitting (unless you require medical attention, of course). So if you don't think you can complete the course within four hours, please take advantage of the short cuts.
Start Times
Our races start on time and everyone must be lined up for announcements at least 10 minutes before the official start times. 
We start taking the start line down immediately afterwards and we relocate all our resources so please do not arrive late and assume that you can start whenever you want.
We do not have manpower to drive you to a further point along the course nor do we have the resources to keep volunteers and supplies on the course because you arrive 10 minutes late. Check the individual race day pages to get familiar with the start times for each day!
Race Bibs
Personalized bibs this year. Each day has a designated bib and you must be wearing the appropriate bib in order to participate on that day.
It should go without saying, but in order to participate in the "races" you must be a paid registrant and wear your designated race bib
If you can't make it to Thursday's Packet Pickup Party then you can pick-up your packet and race bib before each race at the start line.
Water
We're doing our best to go green, so that means…. We'll be passing out cups of water and gatorade at the the pit stops and there will be more water available at the finish line.
Feel free to bring your own water bottle and/or put it in your bag drop so you can help us keep trash out of the landfill.
Pit Stops
We have plenty of pit stop stations along the route each day with water, sports drink, and snacks. Feel free to bring your own water bottle and refill at these stations. Review the course maps so you are familiar with the distances in between stations: roughly every two miles.
Toilets
Don't worry we have restrooms along the courses, too! Friday is a little tricky due to the state park trails and beaches, but we try to have toilets every 2-2.5 miles. Get familiar with our course maps.
First Aid
Bandaids, bug spray, sunscreen… we've got it.. But you might want to lather up and throw a bandaid in your pocket just in case.
Listen to your body. If you feel dizzy, weak, nauseous, overheated, or exhausted- tell the people around you and then sit your butt down in the shade. Notify closest volunteer so we can have EMS come check you out- they will be on site every day.
Call 911 for life threatening emergencies.
Our courses are officially open for four hours so take your time (and take lots of pictures)! We do have "sweepers" on each course to ensure that no flocker gets left behind.
Please note that we do not have the manpower to simply pick you up whenever and wherever you feel like quitting (unless you require medical attention, of course).
Medals
Cross one finish line, get a custom medal that represents that day. Cross two finish lines, you'll score two unique medals!
And our 3-Day participants will not only get three daily medals, but yall will also get out most auspicious and highly sought-after Triple Nipple medal on Sunday. Yup, it's a four-bling weekend for yall!
Massages
Enjoy a complimentary rubdown at the finish lines so you'll be ready do it again the next day!
These same therapists are also accepting bookings for evening appointments.
After Parties
We will gather to celebrate after each day's race. These after-parties are very casual (smelly race attire). The awesome food is included for all our registrants. Family, friends, fans, and supporters are all welcome to join the festivities for $10 a head.
Cash bars will be pouring at all the parties as well. Operative word there is "cash". Cash makes the drinks pour faster.
Merchandise
We will have super cool Pledge the Pink merchandise this year and these babies are gonna go quick so head over to our merchandise tent as soon as you arrive!
Remember cash is best, fastest, and doesn't require us paying extra fees (more money for mammos)!
Honor Board
As is tradition with our flock, every year we create an honor board for all our registrants to sign. This is not only a tribute to the people you walk/run for, but it is a living tribute to all of you.
Make your mark and be part of history. The Board will be at Thursday's party and at the start/finish lines every day this weekend.
Photographers
Dozens of professional photographers will be capturing our festivities all weekend long. We are talking thousands of top notch, high resolution Kodak moments! These photos will be available online within a few weeks; we'll send everyone an email with a link and you can relive the magic forever.
Weather
If it is pouring rain, we are walking.
If it is snowing, we are walking.
If it is hot, we are walking.
If it is cold, we are walking.
If the sky is full of locusts or love bugs, we are walking.
Bottom line yall, only an act of God or a national/state emergency would force us to cancel the event. You've been training and preparing for months, and we've been working our butts off for a year and a half. Aint no way we're going to let anything keep us down!
But if Mother Nature, Gov McMaster, Trump, or the Big Man upstairs himself says that we must cancel an event due to a hurricane or other emergency, we would email all registrants and post on our website and Facebook.
Fundraising Prizes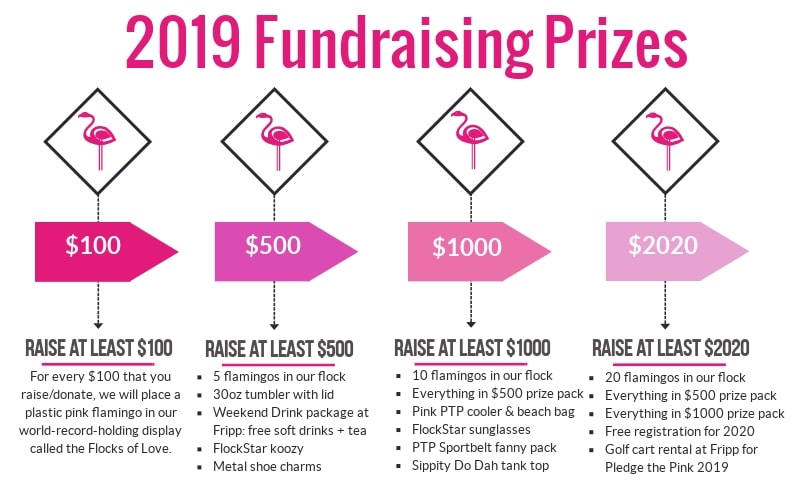 If you would like to receive the fundraising prize packages, please make sure you check the YES box in your dashboard. If you would rather NOT get the incentive prizes, please make sure you check the NO button.
If you checked yes and you qualify for prizes (starting at $500 raised), your prize bags will be waiting for you at Packet Pickup.
Please note that we will only give them to you- not friends or team members. Only you. 🙂
We will have your fundraising totals based on midnight Wednesday (the day before). Prize bags will be made based on those totals. If you bring us additional donations and/or "Facebook proof of contributions" then we will add those to your totals and do our best to include additional prizes you might have won.
Quick Links & Daily Pages