First of all, welcome to our Flock. We seriously could not be more excited to have you join us- we really do have more fun than anyone!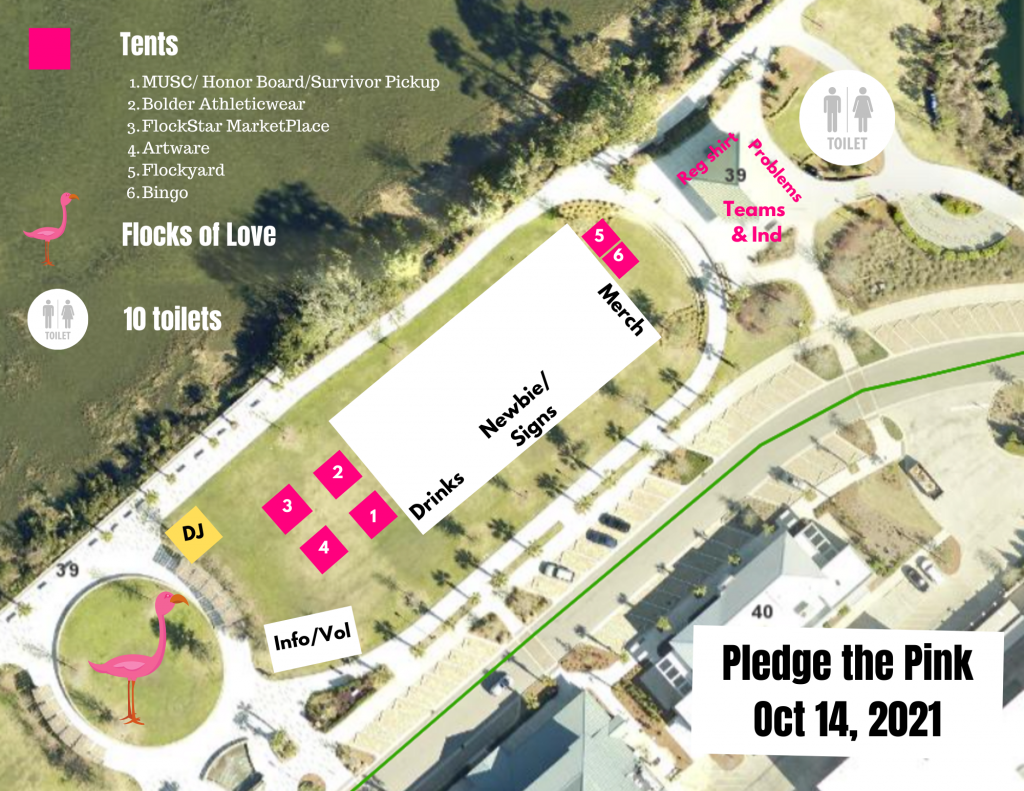 Here's what you need to know/do
1. Newbie Zone
The first thing you'll do when you arrive at the party on Thursday is stop at the Newbie Zone under the big white tent. Get your pictures taken, make a hometown sign, meet Fancy, and celebrate your newbieness with some of our favorite FlockStar vets! They'll answer all your questions and calm you down (and fire you up) before sending you on your way to the pavilion where you'll pick up your official packet.
2. Teams of 4 or more
If you are in a team of four or more, please designate one person to pick up your team's packets under the pavilion (not the big white tent). You'll see a TEAM line, and that's where you'll want to stand. Give our vols your team name, and they'll give you all the packets for your team. Please note: if you are a singleton or on a team with three or less members, you'll stand in the INDIVIDUALS line, give them your name, and they'll pull your bag and the bag of anyone else on your team you need to pick up. Walk around the corner of the pavillon and use the Shirt Size tear strip on your Thursday night bib to grab your official event shirt.
3. FlockYard
Check your Thursday bib for a FlockYard tear strip. If you have one, THANK YOU, because this means you've raised at least $300, and you can stop by the FlockYard to pick up your prizes! Please note that only YOU can pick up YOUR prizes. We will not give prize bags to friends or teammates. They can pick them up after the race on Friday.
4. MUSC Tent
Your last stop is to walk to the MUSC tent and sign our 2021 Honor Board. If you are a survivor, you'll also pick up your official Survivor Swag Bag here, too