On Your Mark, Get Set, GO
Hunting Island (with a start/finish line on Fripp)
Friday, October 21
Race Time: 8AM
SpringTide Market (1 Tarpon Blvd)
7:45AM
– Be at the start line for course announcements, Store Pkg Lot
8:00AM
– Start, Tarpon Blvd
9:30AM
– After Party begins at Fripp Beach Club (300 Tarpon Blvd)
12:30PM
– Survivor Celebration at Beach Club
12:45PM
– 2023 Event Announcement & Open Registration
1:00PM
– Live Auction at the Beach club
4:30PM
– Drag Queen Bingo seating opens at the Beach Club
5:00PM
– Show time #1
7:00PM
– Drag Queen Bingo seating opens at the Beach Club
7:30PM
– Show time #2

A couple of things to know:
Note that today's After-Party is at the Beach Club so you'll need to coordinate with your friends to drive the golf cart from finish line to the party.
This year's theme is the Mad Hattery and we encourage everyone to create an appropriate masterpiece or three for the weekend. Make yourself an over-the-top flamingo or breast cancer inspired derby hat and wear it to our party. Get our photographers to snap a picture of you in it and just like that, you'll be entered to win the Derby Hat contest!
When you get to the beach on Hunting Island, stop and write a message in the sand. Make it poignant, make it funny, make it anything you want. Take a pic and tag us on Instagram or Facebook @pledgethepink The best pic wins FREE registration to next year's event!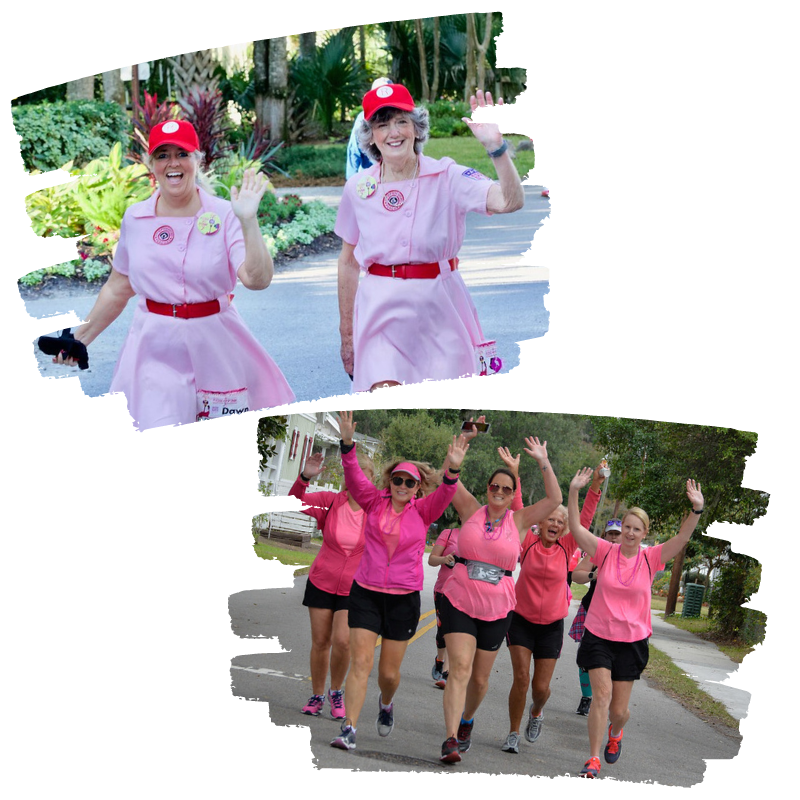 Other Important Information
Click the toggles for details