Saturday, October 22
Race Time: 8:30AM
Set your GPS for 13 Market Street and Follow Volunteer Instructions to Parking
6:45AM
Buses depart for Habersham in front of Fripp Beach Club
8:15AM
Be at the start line for course announcements, Habersham
8:30AM
Start
9:30AM
After Party begins on Market Street in Habersham
12:00PM
Dance Party in the Street
1:45PM
Last bus leaves Habersham for Fripp
5:00PM
Golf Cart Parade participants queue up at Rock Beauty/Tarpon
5:45PM
Sunset Golf Cart Parade, Rock Beauty to Ocean Creek Driving Range
7:00PM
PJ Karaoke at the Beach Club

A couple of things to know:
If you signed up for our buses, they will depart in front of the Beach Club between 6:45-6:50am and return between 11am and 1:45pm.
Post a picture with your favorite Habersham house and tag @pledgethepink. The best pic will win FREE registration to our 2023 event!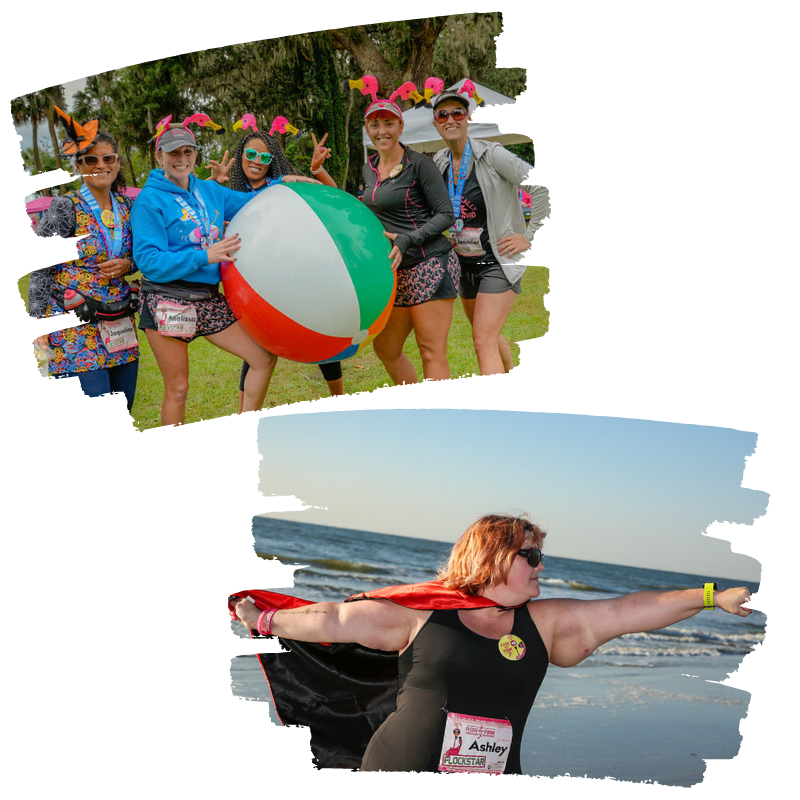 Other Important Information
Click the toggles for details
Any location along the course is a great place for your friends to gather and cheer, just make sure they aren't blocking the road and not parking on any grass.
The Golf Cart Parade Route is different from the past: we will start on Rock Beauty and ride to the Ocean Creek Driving Range. The judges will be on top of the Bonito bridge making notes and the top three winners will be announced at 6:45pm and each will receive killer trophies!
PJ Karaoke is always a huge hit and a load of fun. Wear your fave flamingo PJs and sing along! The Sandbar will be serving drinks until (at least) 9PM.