Our monthly post with updates, announcements and surprises!

In case you missed it, our 2022 theme is The Mad Hattery and we want everyone to decorate their own hats, fascinators, bonnets, and ball caps. We'll be having a contest to see who has the craziest Derby hat on Thursday so don your best feathers to the Packet Pickup Party and enter to win!
Click the images below for inspiration!

The infamous Johnson Creek Tavern Dollar Takedown Party will be Sunday afternoon from 3-6pm so we hope yall are staying over an extra night to help us take down $10,000 from the walls and ceilings. While boogying, eating, and cheering! It is the perfect way to cap off the weekend.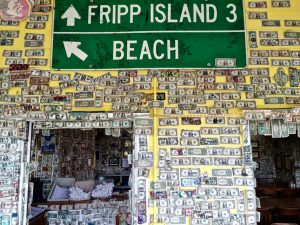 FlockYard Fundraising is now live and dozens of yards across the country are getting flocked with PTP flamingos every week. This is such a fun and easy way to raise money for the cause and get to know neighbors in your community. Check out all the details here.
You have until OCTOBER 1 to reach your 5k fundraising goal for Choose Your Charity this year. October 1 is also the deadline to win fundraising prizes (your prizes will be based on your fundraising total at midnight October 1).

Our online store reopens on March 1 and we've got a bunch of new shirts for yall. But patience is a virtue… we're only releasing THREE of them next month (the rest will be ready in June)! Check them out below and then mark your calendars for March 1 so you can be guaranteed your color, cut, and size!
Click on the images below to see the new merch in all its glory!


Can you believe we only have 104 spots left and it is just February? That's so crazy! If you have friends and family that are still on the fence, remind them that registration to the Best Darn Weekend of Their Life will increase $50 next month so they best be signing up! Sign Up Here. 

If you want to take a bus to/from Habersham on Saturday, please sign up here so we know how many buses to secure. You can also drive your own car/carpool with friends, but the buses will allow you to celebrate at the finish line if you know what I mean 🙂
Our legendary golf cart decorating contest and parade is set for Saturday at sunset and we know it is going to be a hoot and a half. Please sign up here if you/your team plan on participating so we can obtain the proper permits and such with Fripp.