Pledge the Pink's
2022 Headquarters
Our epic weekend is headquartered on Fripp Island, a community known for its private beaches, spectacular golf courses, large (very large!) alligators, and the world's friendliest deer.
They (the deer, not the gators) will be walking right by your side as we meander through the most beautiful wildlife sanctuary in South Carolina. Fripp is normally the most laid-back island in the state… except this weekend!
This course is simply stunning and includes
beaches, boardwalks, golf courses, and stellar views
of Hunting Island State Park, Pritchard Island, and St Phillips Island (where you can rent Ted Turner's home for just $20,000). Between the
friendly wildlife, scavenger hunts, decorating contests, and the Fripp Fire Department hose soaking shenanigans
, we expect this to be the slowest "race" in history! Take your time and relish every moment.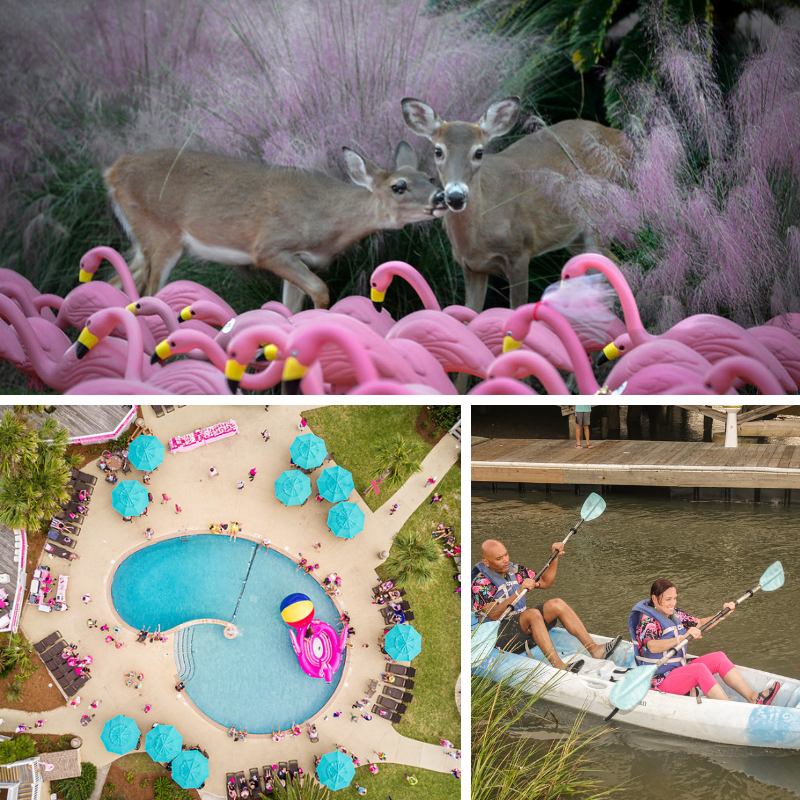 Fripp Island Resort has hundreds of houses, condos, studios, and crash pads to fit everyone's budget.
Gather your friends and family and stay Thursday thru Sunday, or tack on a few days and make a real vacation out of it.
All rentals booked thru the Resort include full access to private amenities (restaurants, pools, golf, tennis). Oh, and most rentals include golf carts!
Want to enjoy a real camp-like experience? Pitch a tent or bring/rent an RV and stay at Hunting Island State Park!
You'll be five minutes from all the shenanigans on Fripp and can enjoy a budget-friendly weekend next to the infamous Boneyard Beach.
Ready to book?
Book your campsite for just $225 for the Thursday to Monday weekend!