1. Official training starts in three weeks – have you selected your training schedule yet (we offer three to choose from)? Do you have your shoes, socks, and accountability buddy yet? Find new FlockStar friends that live near you by logging into your dashboard and going to Registrant Resources. You'll see the roster of registrants and you can search the spreadsheet by city or state to find people in your hometown!
2. Check out our official packing list
from last year and let us know if there are items we should add. Use this list as a discussion point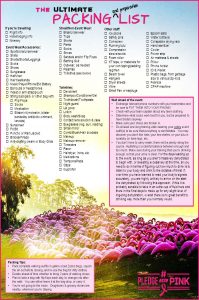 with teammates and people you might be traveling/staying with. See where you can consolidate and save room in the suitcases for important things like 'mingos and cute merchandise!
3. RSVPs for Fripp activities – it looks like most of you have been doing this, as many of the activities and excursions are already sold out! Coordinate with your friends and family to make sure your guests get tickets to these fun outings and book as soon as you can. Here's a link to sign up: https://www.frippislandresort.com/pledge-the-pink-schedule/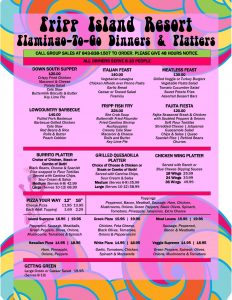 4. RSVPs for buffet dinners – these dinners are fabulous and very informal. Come in your beach-wear or smelly running clothes. Coordinate with your teammates and/or roommates so yall can choose your favorite dinner(s) to attend. Sign up here. Don't forget they are also offering "to go" meals to feed your small army! Between these two options (and our fabulous lunches/course snacks) your bellies will be very happy!
5. Volunteer – do you want to pass out medals, teach people how to play Hungry Hungry Hippo, or help judge the golf cart decorating contest? Does your husband or tag-a-long friend want to cheer you (and 1499 other FlockStars) on along the course and/or maybe help us move 600 golf carts in two hours? Because we need help in bringing this huge beast to life! Send us an email to ptpvols@gmail.com and let us know what you (and your guests) might be interested in doing. We have over 500 volunteer positions that range from 30 minutes to 4 days!
6. Fundraising – we set a lofty fundraising goal of $350,000 this year and we're trying to reach the 150k mark by July 31 (psst – we are 32k shy as of this morning). So we really need your help. In case you didn't know, we have a ton of fabulous prizes to sweeten the pot and make fundraising even more FUN! Check out the official FlockStar Prize Packages we're giving away this year!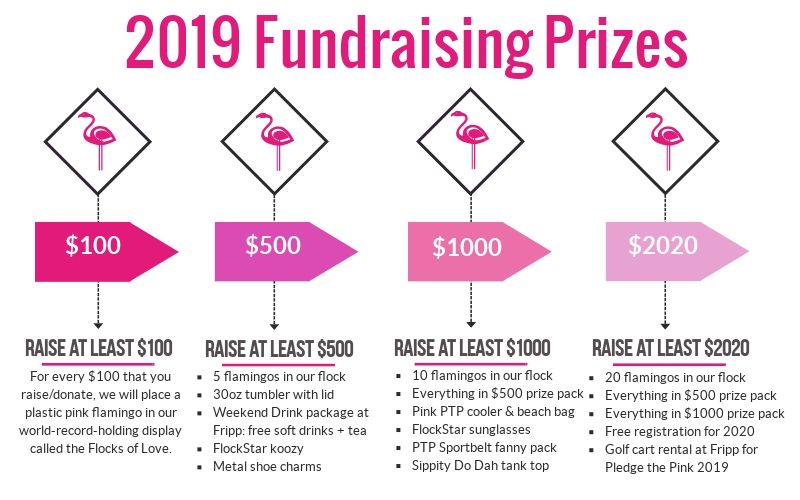 And we've added a special incentive for July: individuals that raise 1k between July 1-31 get a free 20 minute photo shoot at the event! It can be 20 minutes of your beautiful mug or you can invite your friends/family to join the propped-out party!
We are so grateful to the 277 of you that are fundraising on our behalf. Want to be #278? Click here and you'll be kicking breast cancer's butt in less than three minutes!
7. Bib confirmation – your custom bibs are going to print in two weeks so we need you to confirm your registration data (name, town,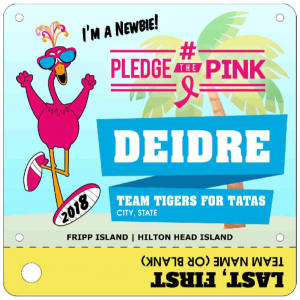 newbie status, food preferences, team, etc) in your dashboard. We see what looks like typos in a lot of your registrations but we do not change registrant data without your permission so please make sure your info is correct.
8. All store orders were shipped on Saturday so you should start receiving your pink packages today. If you haven't done your Fancy Shopping yet, now would be a good time as everything is 10% off! Get some training clothes, choose your weekend wardrobe, and make sure you pick up some flags and boppers to help decorate your car/golf cart! https://store.pledgethepink.com/
9. Rideshare link – did you know that we have a special Facebook page just for carpooling and rideshares? Use it to grab a ride from Maryland or to get a lift from one of the nearby airports or to go in on an Uber together. Seriously, so many people drive here from 10+ hours away so if you're seeing sticker shock with the airlines, consider posting in this group to see if someone has room in their car. And let's really try to minimize the rental cars coming from the airports- they aren't needed once you get to Fripp so carpool!
10. Find accommodations – We also have a private group page for those of you still trying to fill an empty bed and/or those that are seeking housing! Check it out here and also don't forget that Fripp has one or two spots left in their "newbie condo" for just $404! It is gorgeous… and oceanfront! And the price includes all four nights in your own bed. You can contact the Resort directly if you're interested in scoring that deal: (843) 838-1507