Guinness World Record
We've held the record several times but Fancy's arch nemesis, Buffalo NY, keeps stealing it so we're going big this year: our 2023 Flocks of Love will have 7,500 garden flamingos and will bring the Guinness World Record back to Pledge the Pink!
Now all we have to do is raise $750,000 because every bird in our flock represents a $100 mammogram for someone in need. So while the awesome world record title is squeal-worthy, what it represents is life-saving.
Woo hoo!
Bragging Rights
Want to help us raise the money by making a donation and/or fundraising? Well we've got some great incentive prizes for you. And none of these items can be purchased in our store so if you want 'em, you gotta earn 'em.
And that includes our first ever Fundraising FlockStar cape which we hope you'll sport all weekend long to identify you as the cancer-kicking superhero that you are.
Check out the prizes below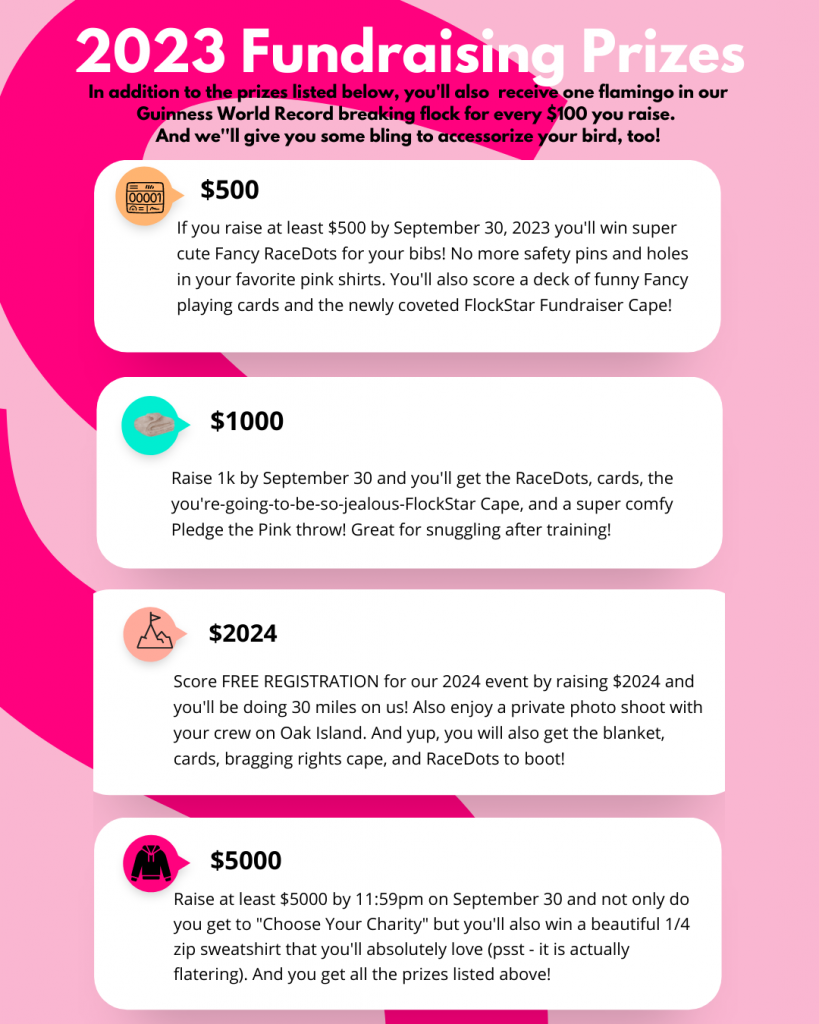 Shop Til You Drop
All orders placed on our online store by 11:59pm this Thursday (Dec 15) will be shipped out on Friday the 16th so you'll have your goodies for Christmas. Have them shipped to you or surprise your favorite FlockStar with a little something fancy and we'll send it right to their door.
We've restocked all the wildly popular sweatshirts, hoodies, Fancy purses, and the Oak Island hype shirt (no, that isn't next year's event shirt). Email us with any questions or ask on our Facebook chat club page; everyone will tell you just how soft and adorable all this stuff is!
Read All About It
Our website has been updated with new pages galore! We've released the Course Maps for you in case you want to try and snag a house along one of the routes.
Our updated training schedules are also online so that you can see what it is going to take to cross all three finish lines (psst – don't forget that we're doing a half-marathon on Sunday so the training is a little different than our veterans are accustomed to).
Trying to plan your weekend and see how many nights you should stay? Check out our Weekend Overview for a birdseye view of our activities and shenanigans. Survivors, please note our 1st Annual Survivor Luncheon on Thursday afternoon (more info to come but please plan accordingly)!
We've also created a special page for our veterans to give us some testimonials and for Newbies to tell us what you are most excited about this year. Please send us some short home made videos and share your story so that we may splice it up and share it with the world!
Price Increase
Please remind your on-the-fence friends to hop off said fence and sign up for the Best Darn Weekend of Their Lives before the end of the month. Registration prices increase at 11:59pm on December 31 so stay on them!