Ten miles a day, on three breathtaking islands.
Run it, walk it, push a stroller, take a short cut, stop for drinks, and take loads of selfies along the way.
Pledge the Pink is not about beating the next guy. It's about challenging yourself. It's about your goals, your training, your finish lines.
And saving lives.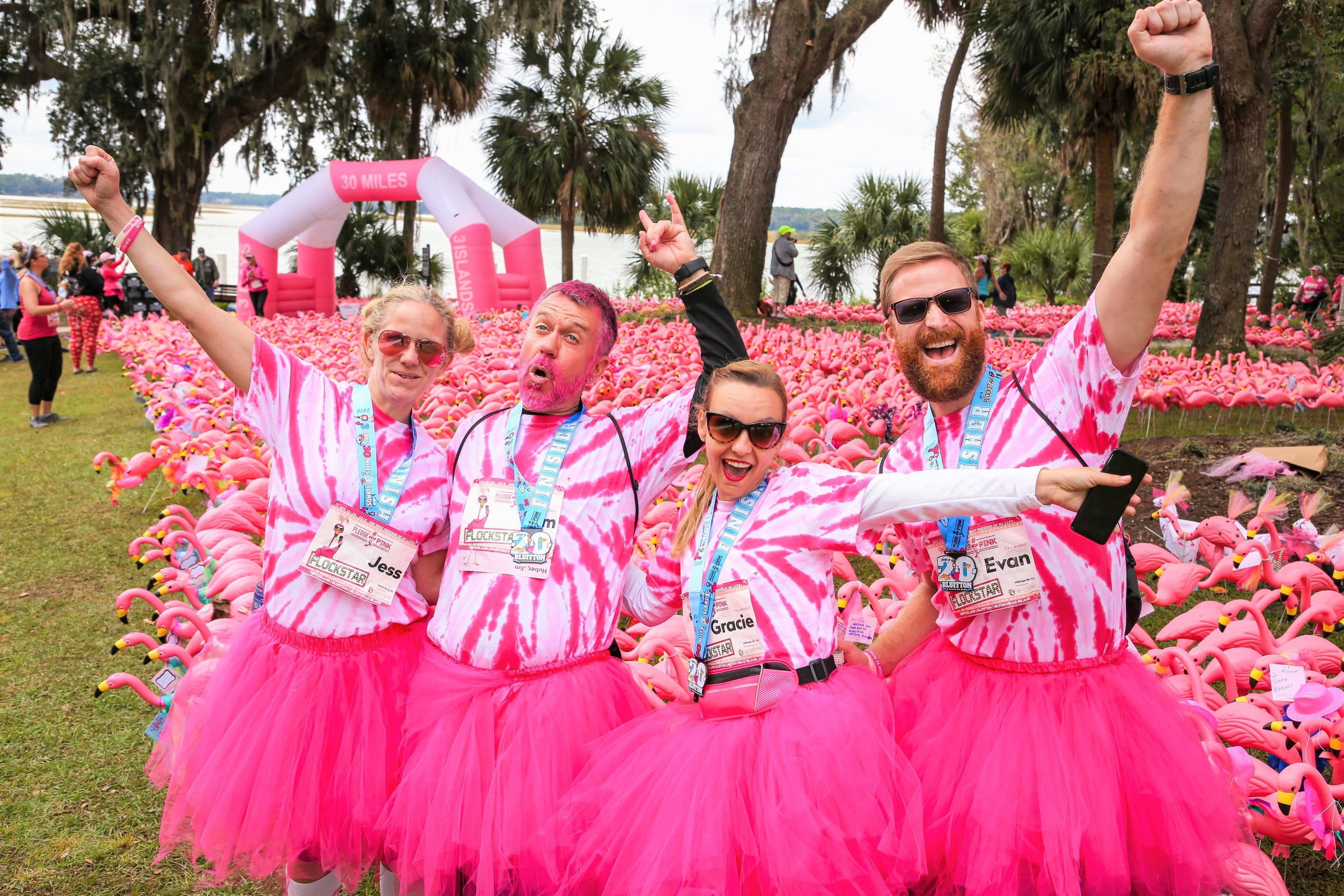 It's our 10th anniversary
And you're invited to the party!
Optional Fundraising
Though not required. most of our registrants end up fundraising or making a donation anyway!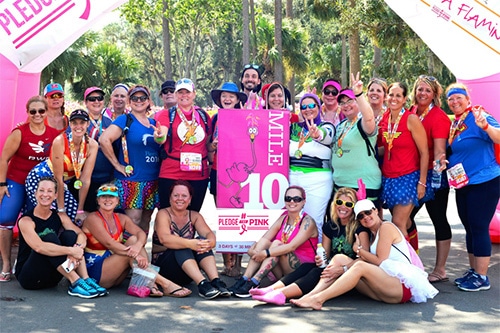 Go solo or join a team
You're never really alone with us! Join a team of new friends or go stag- either way you'll have a blast!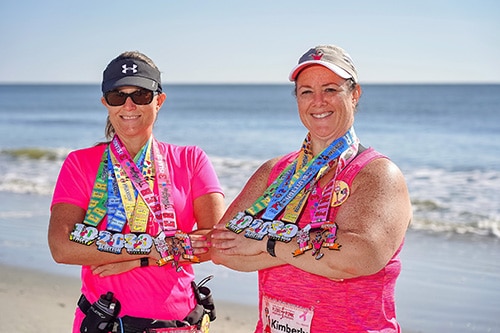 It's a 4 Bling Weekend
Whether you walk or run, there's daily bling at the finish line. plus a 5" honker to celebrate all 30 miles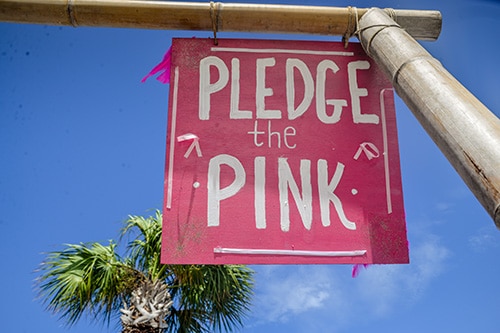 Paradise is Our Playground
Stay at Fripp Island Resort, camp at Hunting Island. or do a VRBO on nearby Dataw or Harbor Islands
What's Included & What to Expect
We give you a one-of-a-kind, first-class, best-weekend-of-your-life, life-changing event, all wrapped in a (pink) bow.

3 GORGEOUS COURSES
Stocked with goodies & adoring fans

3 FINISH LINE LUNCHES
Chef-served meals made for FlockStars

1000s OF PRO PHOTOS
Download & relive the best weekend of your life

4 BIG CUSTOM MEDALS
Each one custom, heavy, and beautiful

A BAG FULL OF SWAG
Filled to the brim with stuff that'll make you smile

4 ROCKIN' PARTIES
With live entertainment & beachside boogying

POST RACE SHENANIGANS
Games & activities for the record books

FLAMINGO BDAY PARTY
The biggest flamingo party in history

3 PRIVATE/RESTRICTED ISLANDS
The gates unlock, just for you!
Your first Pledge the Pink?
We have a newbie guide just for you
Pledge the Pink is different than any other race or walk you've ever done before. And we'd like to think it is the best one, too! But we understand that all the island hopping logistics and flamingo talk might be a little confusing for first-time FlockStars so we made a little Newbie Guide just for yall!
We understand life happens
That's why we have our No Worries Cancellation Policy!
Budgeting for Your Weekend
About 75% of our registrants come from out of town (49 states and 17 countries in 2018) and they tell us that $300-$500 pretty much sums up your weekend expenses, especially if you buddy up on accommodations.
Share a house or condo and save even more money– splitting up a bigger place that sleeps several people is much cheaper AND you can have breakfast and dinner at home vs going out to eat.
There are also 100 RV and camp sites on adjacent ​Hunting Island State Park​ that are extremely affordable. Ranger Weatherford and the South Carolina Parks, Recreation & Tourism Department are excited to Pledge the Pink with us!
Use our Facebook group to meet your new besties and save money by carpooling down here with folks in your area.
Here are some other tips: https://pledgethepink.com/blog/budget-for-your-weekend/
Where does the money go?
Historically, we've dispersed most of our fundraising dollars to regional hospitals and breast cancer clinics in the southeast, primarily because the majority of our registrants came from this area.
But now we're kind of a big deal and people flock to us from all over the world so we're branching out.
And YOU get to decide where your fundraising dollars go this year! Here's more info on how we distribute the funds : https://pledgethepink.com/blog/where-does-the-money-go/
There's really no fundraising required?
Nope! You don't have to raise a dime. Most of our registrants end up making a donation or doing some fundraising anyway, but it is not required at all.
Get all the info here: www.pledgethepink.com/fundraising
Does registration include accommodations?
No, your registration fee covers the costs of your event participation and all the other fun bells and whistles like the parties, bling, lunches, and post-race activities.
Accommodation options range from camping at the adjacent state park to staying in an affordable villa at Dataw or Harbor islands, or enjoying the convenience and beauty of staying at Fripp.
Here's more info on your options: https://pledgethepink.com/blog/how-and-where/
What if I need to cancel?
We recently updated our cancellation policy to allow for refunds. Send an email to info@pledgethepink.com if you need to cancel and we will process your refund as follows:
Cancel before March 1 and get a refund minus $50 cancellation fee
Cancel before July 1 and get a refund minus $100 cancellation fee
Cancel before Sept 1 and get a refund minus $150 cancellation fee

Join our PRIVATE Facebook Group!
Want to see more?
Check out some pics and videos!