The Second Best Weekend of Your Life
Our live event is cancelled, but walking away and doing nothin' just aint how we roll.
Our virtual event will be jam packed with all of the Flocktabulous-ness that you've come to expect from Pledge the Pink weekend (think Drag Queen Bingo, Pajama Karaoke, a Survivor Celebration, tons of contests and 30 cancer-kicking miles to boot) with none of the risky travel, large gatherings or outrageous wake up times.
What you need to do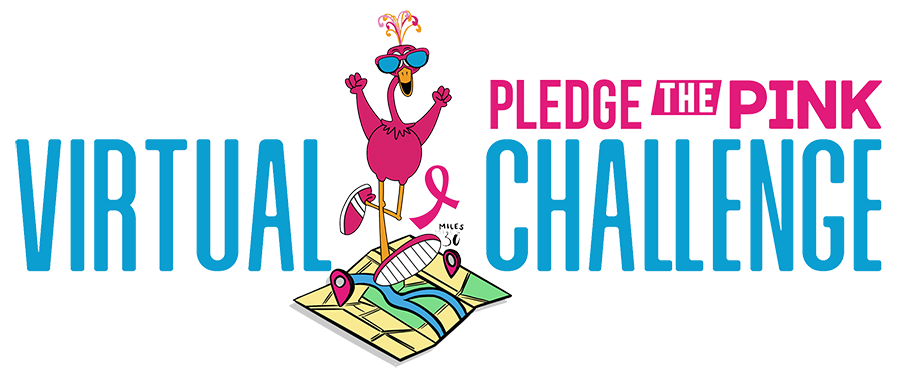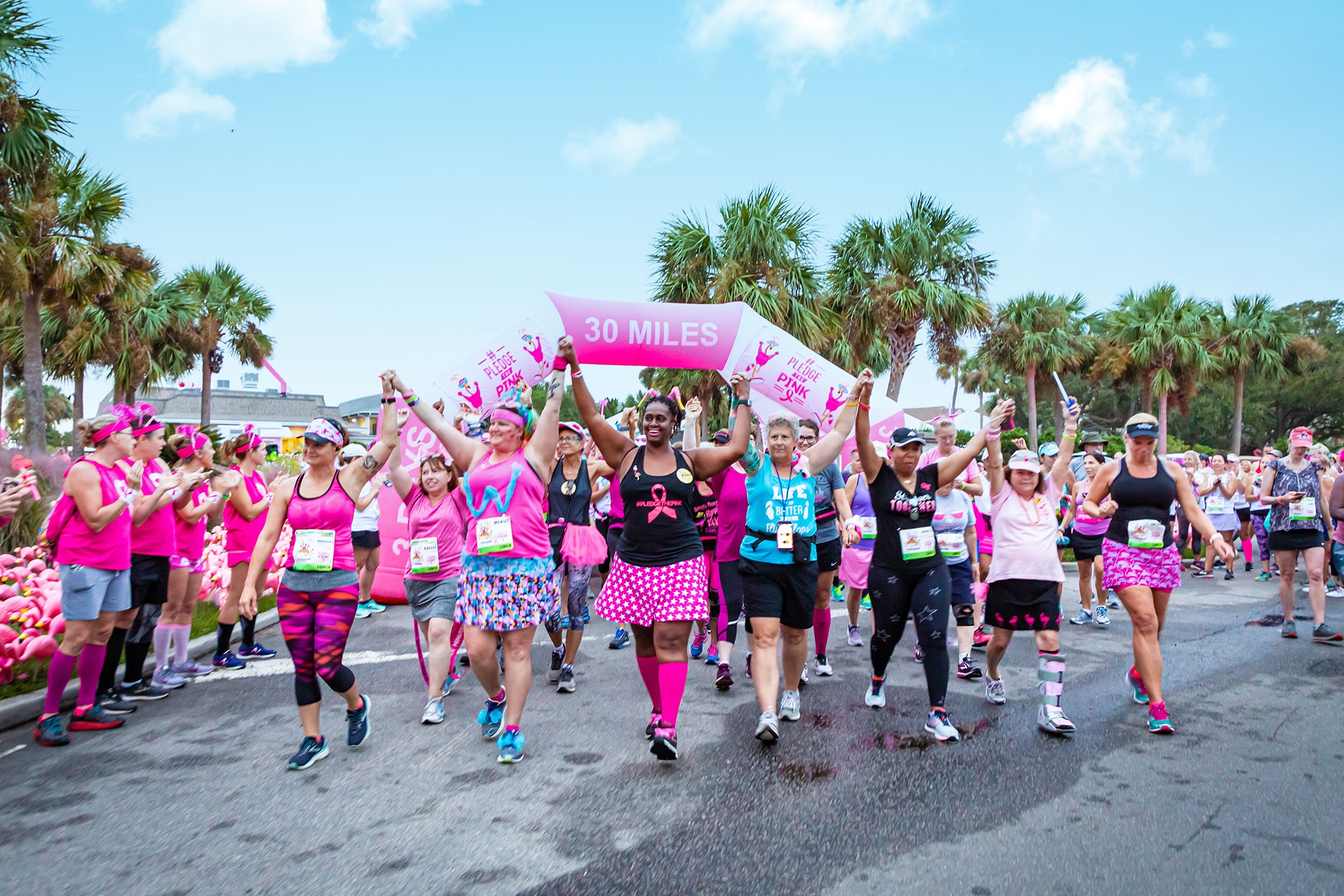 Cancer doesn't take a backseat to COVID. And neither do we.
While the live event has been cancelled, our mission to stomp out breast cancer certainly has not.
Yall have already raised 140k and we won't stop until we reach our lofty goal of 450k! Don't forget, if you or your team reaches the 5k fundraising level YOU get to choose where 75% of your dollars are donated. And we'll still be adding one flamingo to our Flocks of Love (to be created at Laura's house!) for every $100 that you raise.
If you signed up for the live 2020 event, we've already rolled your registration over to the virtual event. Just a few more steps and you'll be sitting pretty for Virtual Pledge the Pink 2020!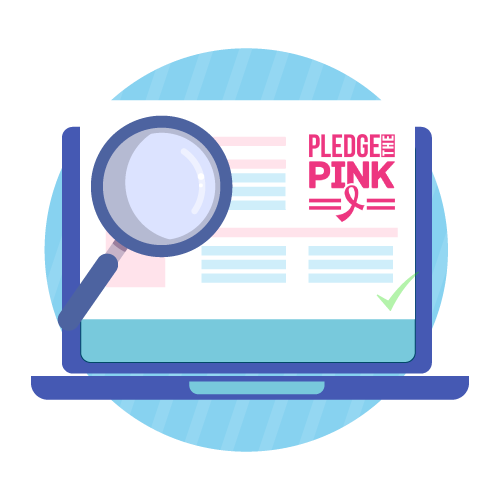 Head over to your Dashboard
Log in to your Dashboard to confirm your mailing address and shirt size. You can let us know where you'll be doing your miles too!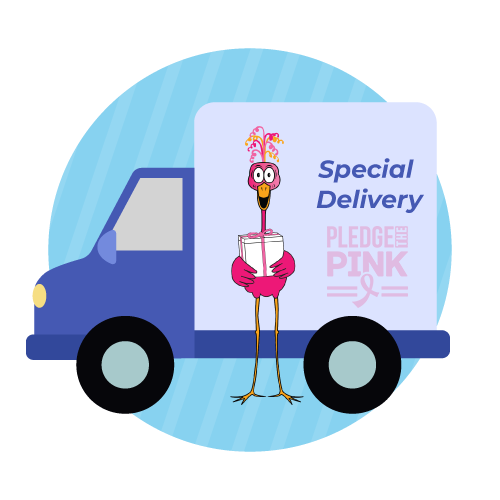 Check your mailbox!
We will be shipping your swag and bling before event weekend so keep an eye on your mailbox!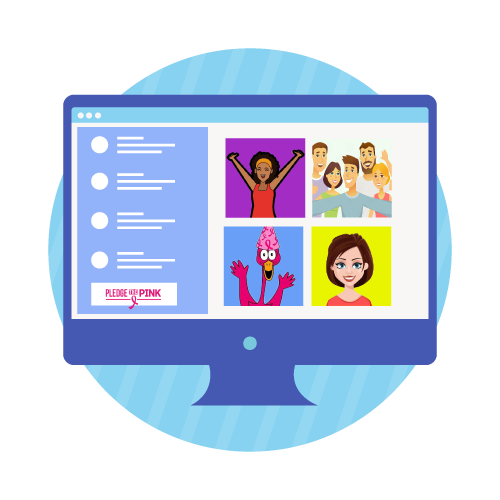 Join Us!
Join us on our NEW private Facebook group for a weekend full of prizes, besties, bling, and LIVE activities all day/night long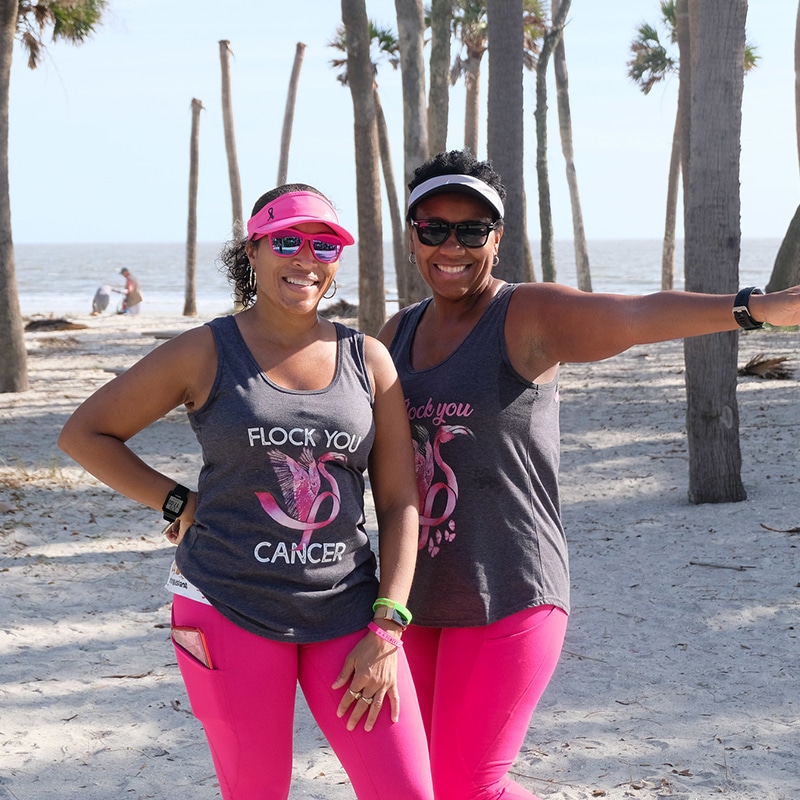 Swag & Bling Delivered to Your Door
Coz we love our FlockStars!
We'll mail your virtual swag bag goodies on October 5 so you'll have them prior to our big event. Here's a sneak peek of what's included:
Fancy birthday hat
Commemorative event shirt
Four big beautiful medals
And some surprise swag!
If you are eligible for fundraising prizes we will also ship that out with your swag bag. Likewise, Virtual registrant's that are breast cancer survivors will receive their personalized t-shirt in their package, too.
FlockStar Fun All Weekend Long

Welcome to PTP
We'll be firing everyone up from the moment you land in our new, private Facebook group. There will be plenty of contests & giveaways in the months and weeks leading up to our October celebration. Expect a lot of guest appearances and challenges!

Fancy's birthday party
We'll kickoff the weekend with a birthday party for Fancy on Thursday night (birthday hats will be in your swag bag so you can all don the part)! Who here has ever sung "Happy Birthday" to a flamingo before?

Daily start line warmup
Stevie will be in charge of waking us up each morning and getting us motivated to lace up. We'll warm-up together and then, as is tradition, let the survivors start a few minutes before the official gun goes off for the rest of us. Listen to
Fancy's Jams
on Spotify as you walk your miles!

Finish Line After Parties
Stevie, Laura, and the gang will be at the finish line each day to give you virtual high fives, sweaty hugs, and a whole lotta "Hey Hey Hey" nonsense. The music will continue as we share our after party pictures and videos from around the globe (and maybe show off our blisters). The world's biggest long distance cocktail party is definitely in the works, too!

Survivors Celebration
During Friday afternoon's after-party, we will all come together to pay tribute and honor our registered survivors. We will be mailing yall your personalized survivor shirts so we can't wait to see pictures of yall wearing them proudly while your fellow FlockStars give you a standing ovation. We'll be inviting a few of you to say a few words to the group.

Drag Queen Bingo
You didn't think we'd forget Bingo, did you!? The fellas have been working hard on their makeup techniques and have spent a lot of money buying their dresses and shoes… yall won't believe the costumes. OMG. This streaming event will go down in history (and since it is being recorded, it will also make for great blackmail against the guys)!

PJ Karaoke
Boogie down with us Saturday night as we get FlockStars singing and dancing in all 50 states at the same time! We will post song choices in the weeks before the event so yall can rehearse and be ready to walk away with the grand prize! Don't worry tho, we'll all be singing along with you (just no one will be able to hear us, ha)!

Car/Golf Cart Decorating Contest
Just because we can't do our golf cart parade doesn't mean we can't decorate our vehicles and create a virtual parade! Pimp out your ride and then share photos and video with us so we can connect them all together for the most awesome pink parade ever. We've got awesome prizes for the winners!

And more (stay tuned)!
We'll have lots more details for you in the coming weeks!
Words from our FlockStars
This year I will be a 4 year breast cancer survivor. I also work in surgery helping other breast cancer survivors. Everyday I see how this beast affects people. Breast cancer is still here and we still need to fight it! I will be walking virtually with my team this year at Fripp and continue to Pledge the Pink!! By doing it virtually, we can still have a blast, raise money, and make a difference. But it can't happen without you. Cancer has not stopped and neither will we.
I am a 13 year survivor. I truly believe without events like Pledge the Pink I might not be alive. I'm so excited for Virtual Pledge the Pink. Charities need support more than ever. I can't wait to see the incredible swag and medals we get. Please either join us in Fripp and walk or walk from home. This is a crappy situation that no one could have predicted so we need to make the best of it. Fripp is a great Island to go and chill out and get away from all of the bad things going on in the world now. So please walk virtually and fundraise for this amazing event.
Confirm your mailing address and shirt size
Confirm your details today!