Choose your daily lunch/brunch from six food trucks and one restaurant as you cross the finish line each day. Your race bibs will have tickets on them that you can take to any of our trucks (and adjacent restaurant) and order from their custom Pledge the Pink menu.
Grab your grub and join us under the tent for continued shenanigans and hijinks as you chow down some of the best food in North Carolina!
Food will be served until 1pm on Friday and Saturday and Sunday. All Food Trucks will serve meals with a side and a drink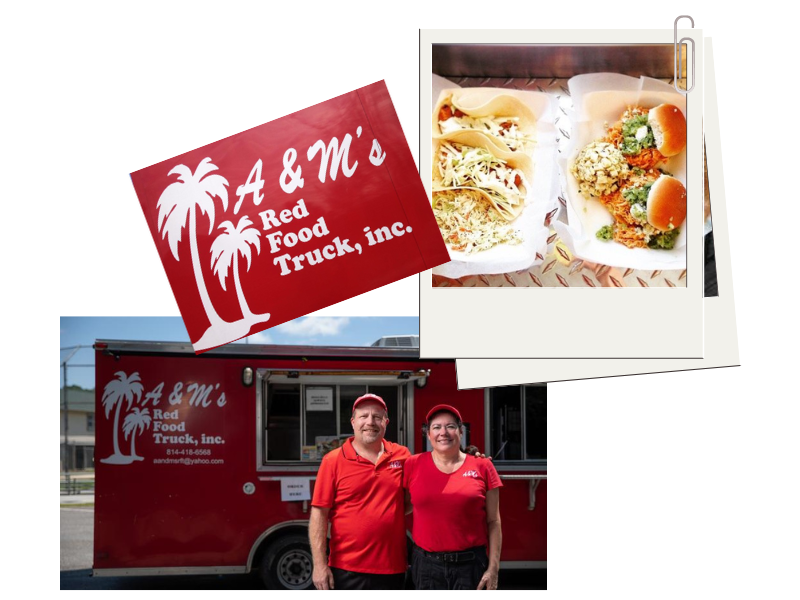 Pick 2 Items & 1 Side
GLUTEN FREE OPTIONS /KETO FRIENDLY
Triple B
50/50 ground beef /bacon patty, cheddar, bacon, lettuce, tomato, onion
Louie
Blackened Mahi, tangy Bayou sauce, shredded cabbage
Santa Fe
Mexican style shredded chicken, cheddar, lettuce, tomato, chipotle aioli
Santa Monica
Carnitas pork, cilantro, onion and lime wedge
Veg
Homemade vegan patty, feta, lettuce, tomato (any additional veggies are free)
All American
100% beef patty, american cheese, lettuce, tomato, pickles, onion
Cali
Grilled Mahi, M'a pineapple slaw, zesty avocado sauce
Southern
Seasoned pulled pork w/ M's pineapple slaw
Honolulu
Teriyaki chicken, grilled pineapple, bacon, green leaf lettuce, red onion
SIDES
Tater tots/ Mac-n-Cheese / Mexican street corn / Deep-fried peanuts / Sausage Gumbo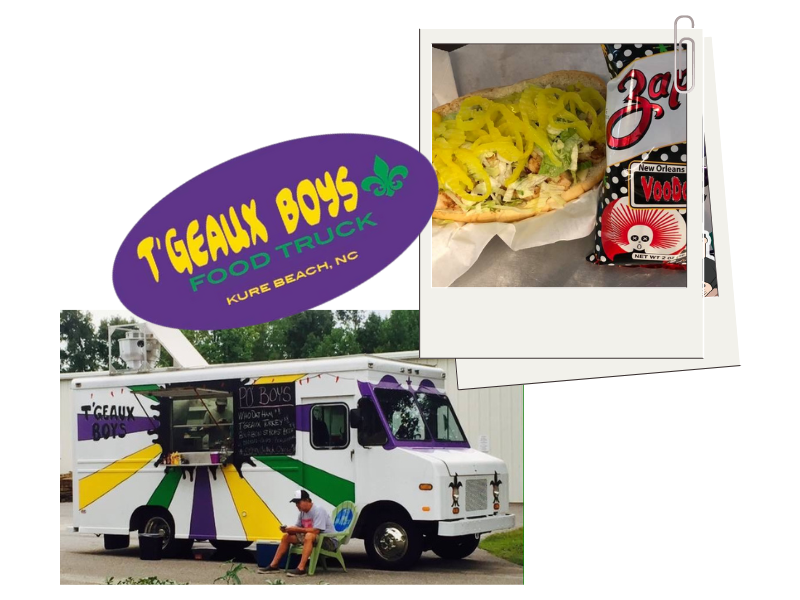 PoBoys
(French bread Sandwiches) Our bread comes from New Orleans oldest bakery, Leidenheimers.
"SASSY"
Bourbon BBQ smoked & pulled chicken w/ cheddar
"KENNA BRA"
Vegan, all veggies w/ vinaigrette dressing
Crawfish S'Mackin Cheese
5 cheese mac w/ sweet crawdad tail & crunchy cheesy topping
Italian Pasta Salad
Our homemade creamy Italian dressing, chilled tricolored pasta w/ roasted red peppers, olives, Italian seasoning, topped with hard parmesan & cherry tomatoes. Served vegetarian-style or with grilled chicken.
The Ponchartrain
Our homemade all-white meat chicken salad on a buttery croissant dressed with lettuce & tomato (GLUTEN-FREE W/OUT THE CROISSANT)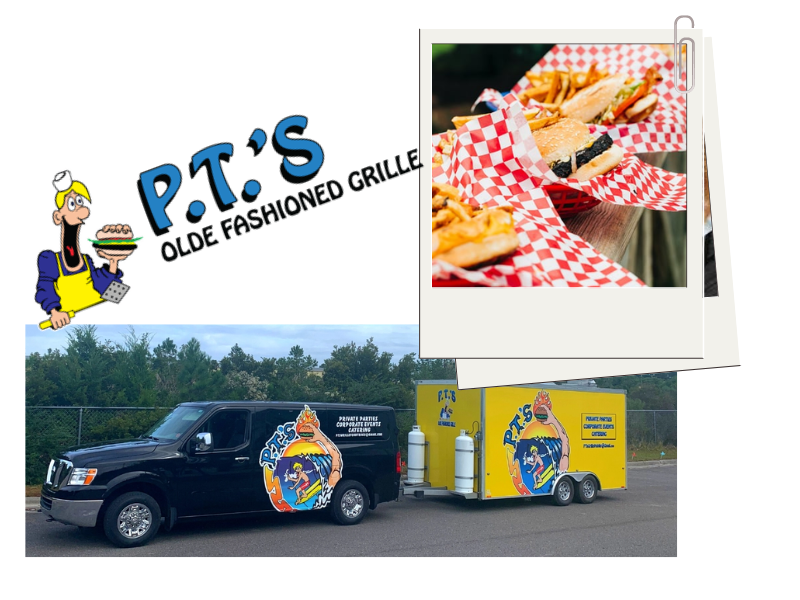 4oz Burger
Chicken Tenders
Chicken Tender Sandwich
Black Bean Veggie Burger
Toppings:
American Cheese
Lettuce
Tomato
Onion
Pickles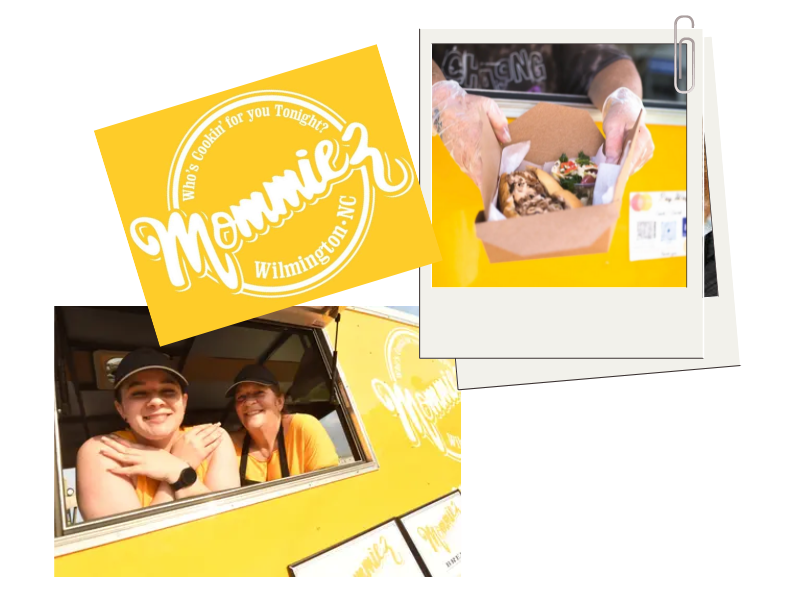 Comes with your choice of chips, apple slaw or pasta salad and a drink!
Beef with Bunz
Tender shredded beef seasoned with Mommiez spice, slow-cooked in its juices, served on a hoagie roll with mushrooms, onions, and Mommiez sauce.
Chicken Marsala Sando
Mommiez juicy chicken slow-cooked in marsala wine with mushrooms served on a hoagie roll.
Chicken Silly
Your choice of one of Mommiez delicious chicken salads on 12 grain bread with lettuce and tomato.
Crunchy Beef
Mommiez shredded beef over a bed of chips topped with cheese, chunky salsa and jalapeno crema.
Veggie Quesadilla
Grande flour tortilla with roasted vegetables, shredded cheese and Mommiez Mango baja sauce.
Step 1
Choose Your Hotdog:
Trolly Dog


Beef & pork "Traditional Southern Dog"

Beef Dog


All Beef "Traditional Northern Dog"

Turkey


All Turkey, Reduced Fat

Vegetarian


Soy Protein, Light Smart Dog
Step 2
Choose Your Topping Style:
North Carolina


Deli Mustard, Chilli, Slaw

American


Deli Mustard, Chilli, Onions

All The Way


Deli Mustard, Chilli, Slaw, Onions

Surfer


Deli Mustard, Cheese, Baco bits

German


Deli Mustard, Sauerkraut

Nuclear


Deli Mustard, Cheese, Jalapeños

Southport


Deli Mustard, Secret Sauce, Diced Tomato, Onions

Cape Fear


Mayonnaise, Cheese

Old Baldy


Totally Plain

My Way


Choose any 3 toppings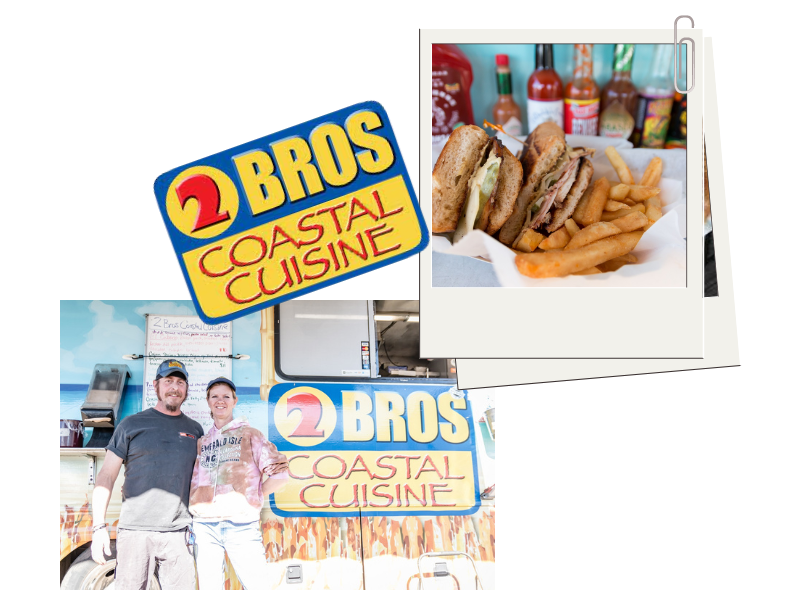 All wraps served with Lay's chips and a drink
Cajun Shrimp Wrap
Grilled shrimp with cajun seasoning, melted pepperjack, housemade remoulade, lettuce, and tomato, wrapped in a grilled flour tortilla
Santa Fe Chicken Wrap
Grilled chicken, melted pepperjack, housemade chipotle ranch, housemade blackbean salsa, lettuce, and tomato, wrapped in a grilled flour tortilla
Pimento Chicken Wrap
Grilled chicken, housemade jalapeno pimento-cheese, horseradish mayo, lettuce, and tomato, wrapped in a grilled flour tortilla
Cheesesteak Wrap
Thin-sliced ribeye, grilled onions, melted provolone, lettuce, and tomato, wrapped in a grilled flour tortilla