Get Ready to Pledge the Pink, Fripp Island!
Thursday through Sunday, October 15-18, 2020
We are crazy excited to be back at beautiful Fripp Island this year and we are working our tail feathers off to make our
10th anniversary event a weekend that no one will ever forget!
Who We Are
Pledge the Pink is the second largest multi-day breast cancer event in the country and we are celebrating our 10th anniversary this year.
Our 30-mile island-hopping adventure of a lifetime has raised almost a million dollars in the fight against breast cancer and our fundraising goal for 2020 is to raise $500,000, the majority of which will stay in the lowcountry to provide funding for screening, treatment, and research. Our Foundation is a 501c3. Oh, and we have a mild obsession with flamingos.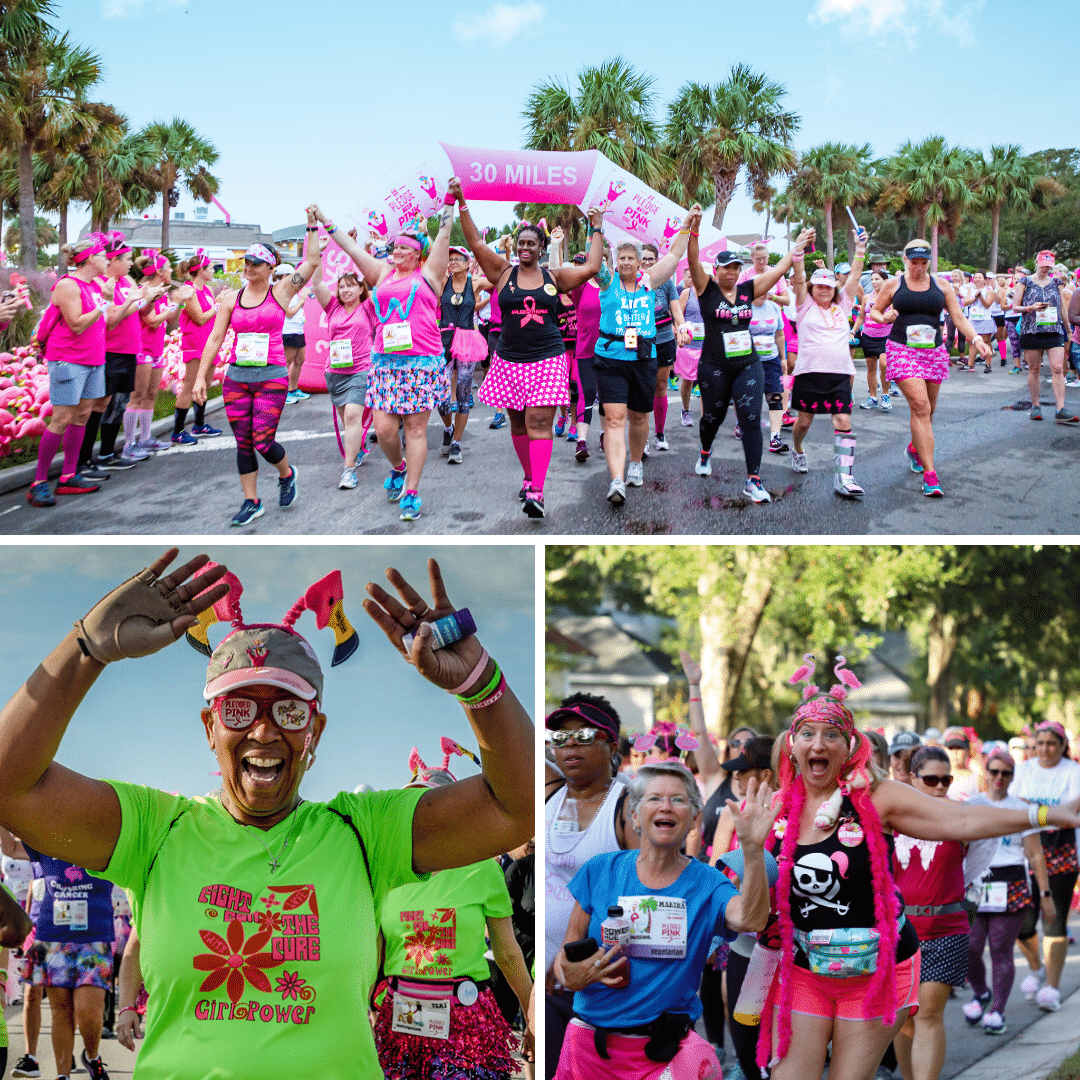 What We Do
We have more fun than anybody! 1500 registrants from around the world come to the Lowcountry every year to walk, run, and crawl across three islands. This year they will enjoy a beautiful 10-mile course on Hunting Island, on Fripp Island, and over at Habersham. After the race each day, we throw a legendary party at the finish line and then boogie down with endless games and shenanigans into the evening. It truly is the Best Darn Weekend of Their Lives.
Thursday:
Most of our registrants will arrive on Thursday, October 15 and we have our
welcome party at the Beach Club from 3-8pm
. Please come out and join us!
Friday: We will set up our start line at the foot of the bridge and our registrants will walk/run over the bridge from Spring Tide Market, and then head down the trails and beaches of Hunting Island. The bridge will be closed from 7:55am until 8:15am. We will be back at the Beach Club for our after-party and other hijinks until 10pm. We would love for yall to come out and join the fun!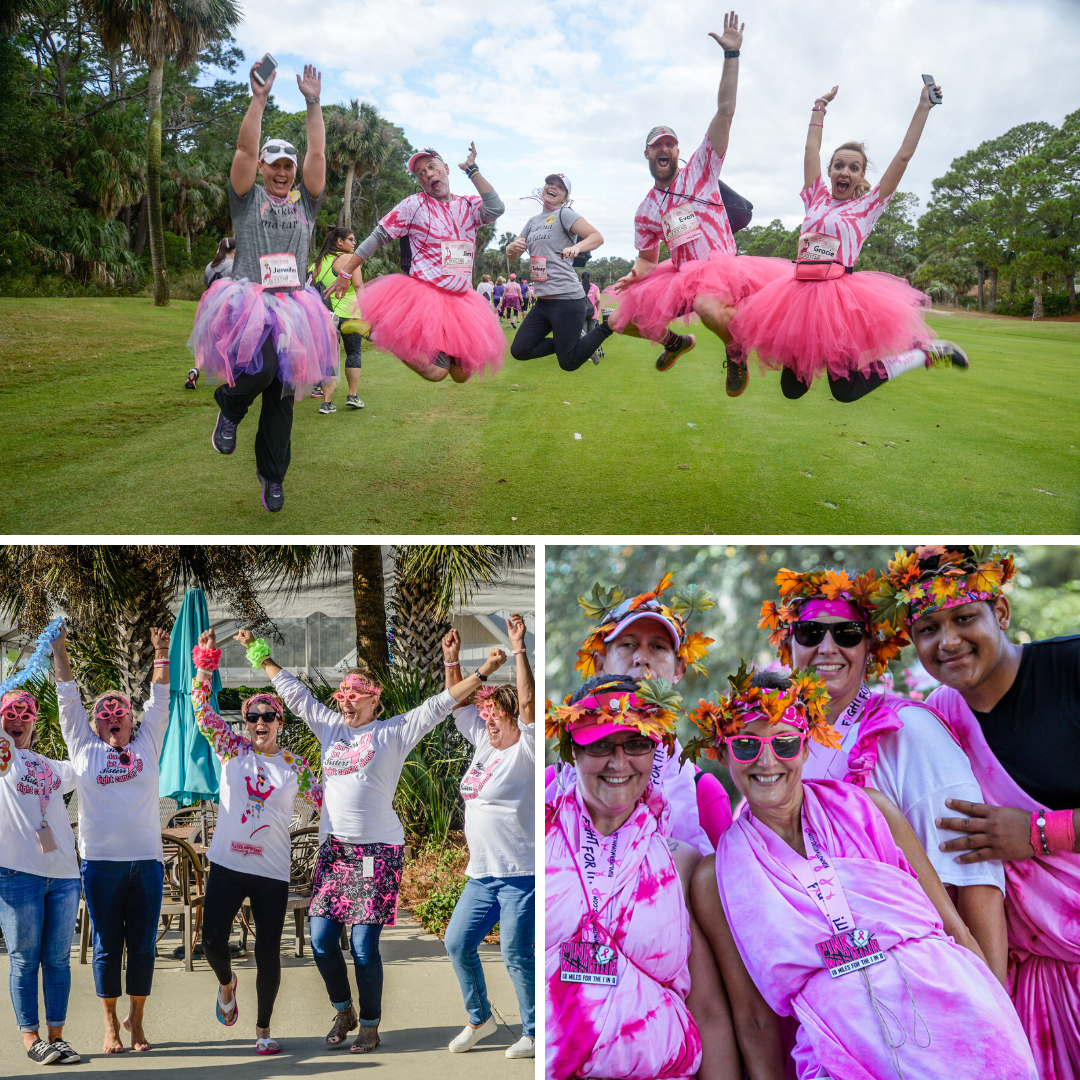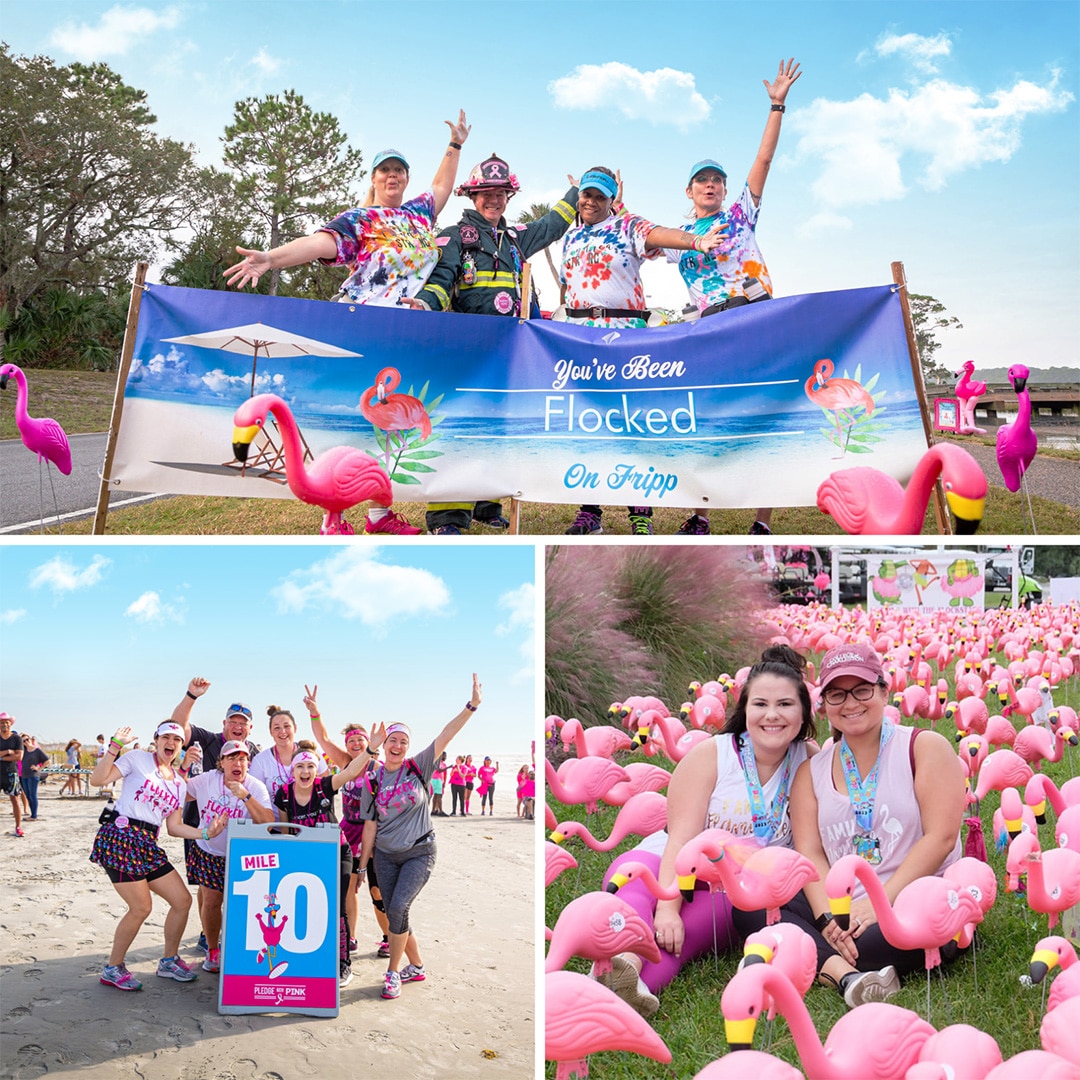 Saturday:
We will leave Fripp via buses between 6:30-7am from the Beach Club as we head to Habersham. Buses will return between noon and 4pm. Our big
Golf Cart Parade
will start at the Ocean Creek Driving Range at 4:30 and travel down to the marina and back. We hope that Fripp residents will come out to cheer us along the route and enjoy the parade with us. At 7:30pm we are throwing a big party and
Drag Queen Bingo
at the Beach Club. This is night Fripp Islanders don't want to miss ! It will be a legendary night with singing, dancing, and pee-your-pants laughter. And the chance to win
$8,000 in CASH prizes
! Tickets to this sell-out event will go on sale March 1 so mark your calendars and get ready to have the best night of your life!
Sunday we will start our Fripp race at 7:15am at the Beach Club and wind all over the island (see map below). We hope that you'll cheer our participants on with decorations and "party" stops all along the way. The finish line is back at the Beach Club and our after-party will go on until 3pm. Please join us!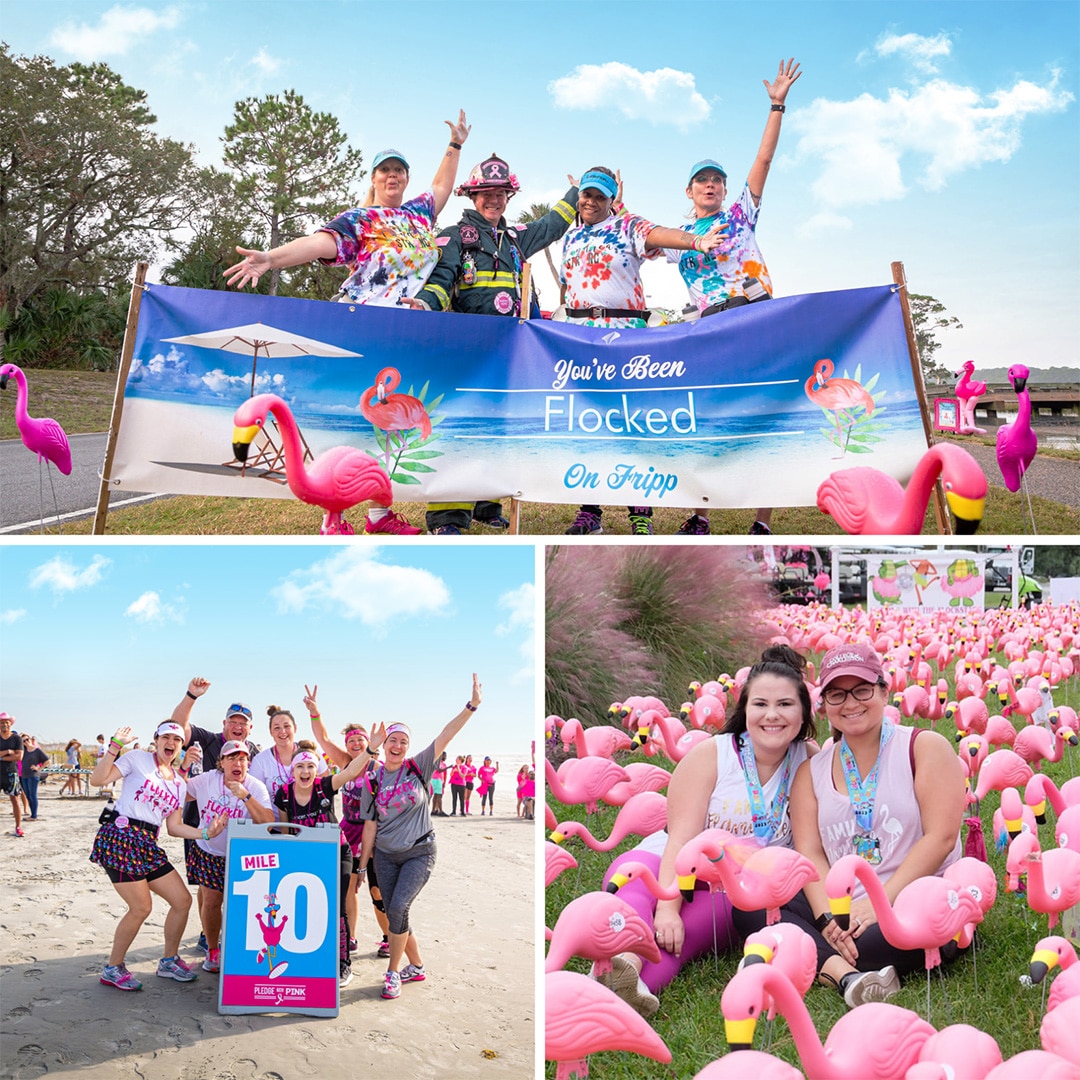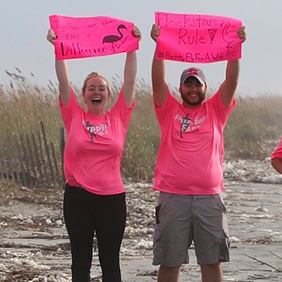 Cheer us along the course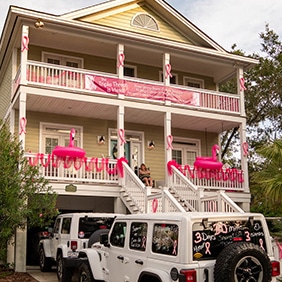 Decorate your mailbox, front yard, or house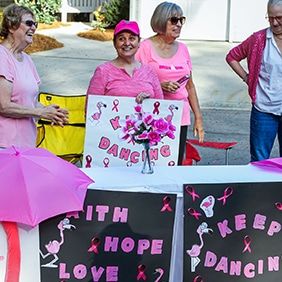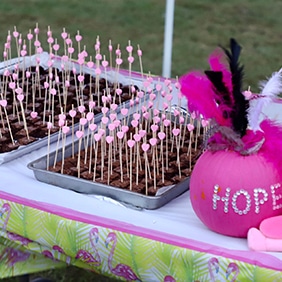 Set up a table with snacks or pink lemonade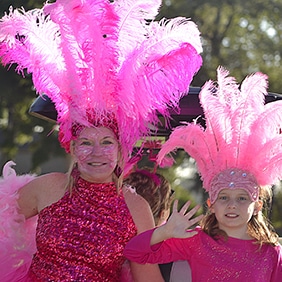 Dress up like a flamingo, wear a pink tutu, and accessorize your dog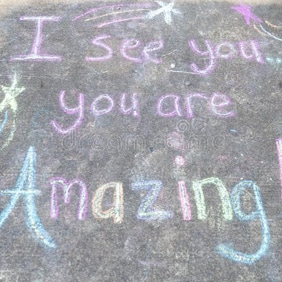 Write inspirational and funny messages along the course in sidewalk chalk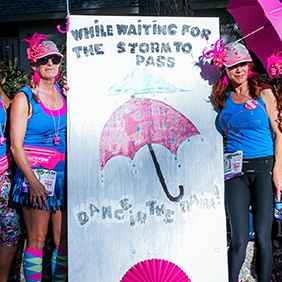 Make funny signs for us along the course to keep our mind off our feet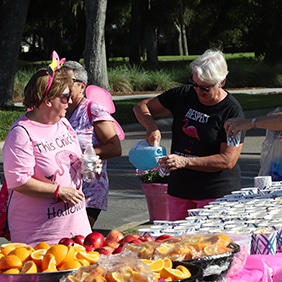 Volunteer to man one of our official pit stops and pass out snacks, water, and Gatorade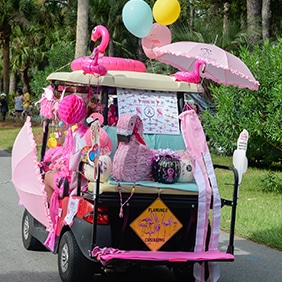 Drive our professional photographers around the course in your golf cart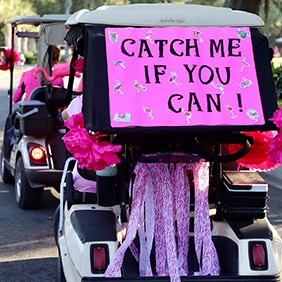 Join our bike-patrol to ride alongside our walkers to keep them motivated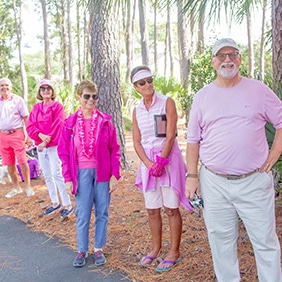 Greet our buses and welcome our registrants as they arrive and make their way to the start line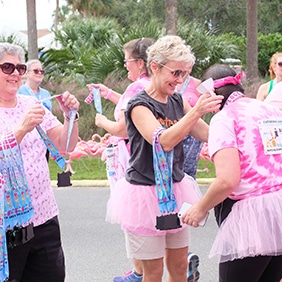 Pass out medals, sweaty hugs, and celebrate with us at the finish line party on Market Street
Let us know how you can help
Complete the form below to let us know how you can help. You can also email us at info@pledgethepink.com with any questions or suggestions. We want to showcase the beauty of Fripp's residents just as much as we want to showcase its physical beauty!